Rainbow Super High Waist Shorts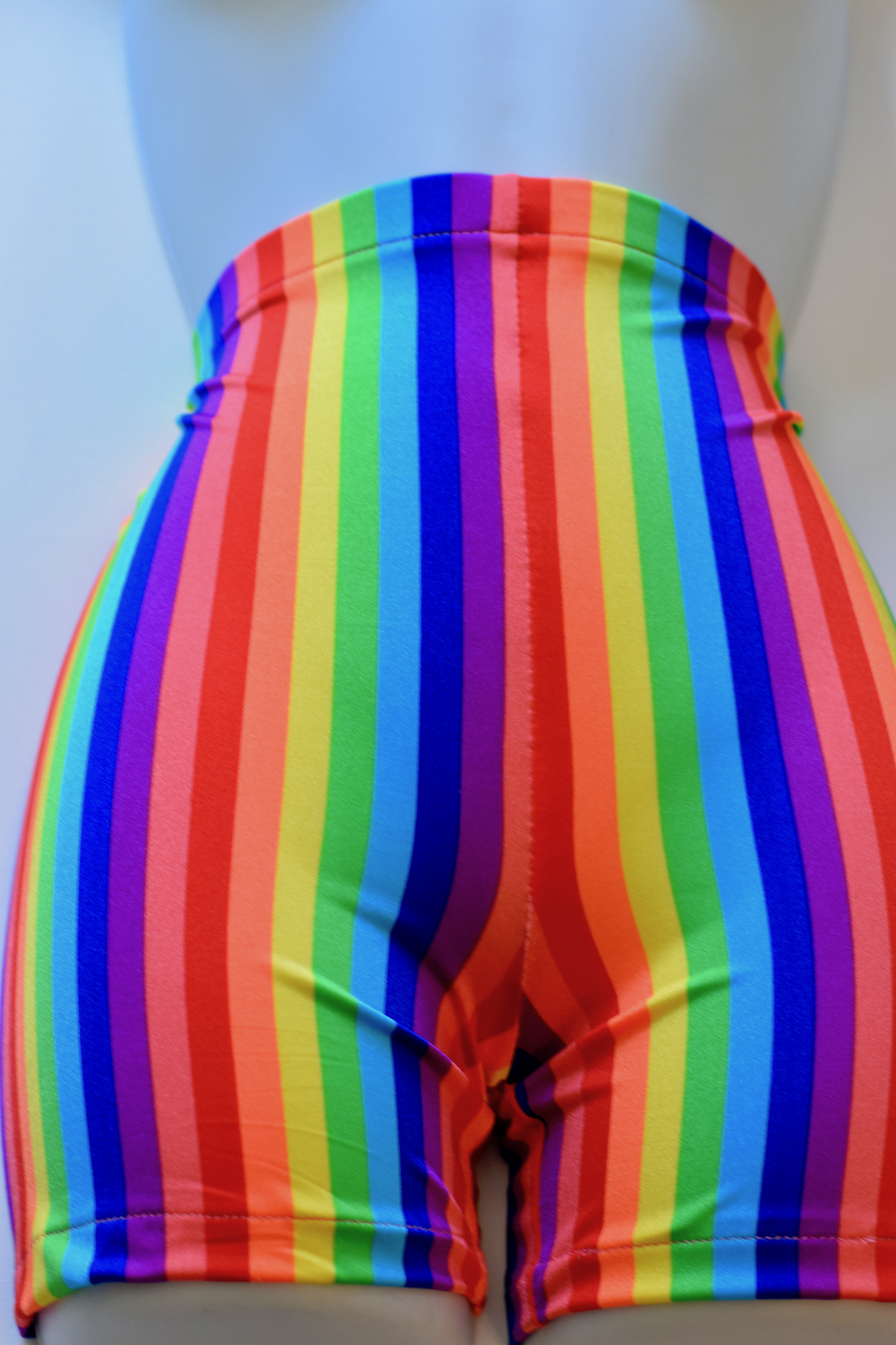 Rainbow Super High Waist Shorts
Wear your pride on your bum with these super cute, Super High Waist Rainbow Stripe Spandex Shorts (i.e., Rainbow Bright Hot Pants)! These shorts are made for a cool workout, swimming, or worn casually around town, or to any queer, lgbtq+ gathering (*ahem* PRIDE). Made from lightweight nylon spandex, these shorts will stretch with your body, and wick away sweat.
STYLE & FIT
The shorts are made with a super high-waist silhouette to accentuate the smallest part of your waist, for the most flattering line and to make sure you stay covered during your activity. The high-waist silhouette has a vintage feel, while maintaining modern comfort and flexibility. The vertical stripes create an elongating silhouette, and converge at the back in an upside-down V for curve emphasis. The shorts are brief, with lengths between 3.25-4 inches, depending on your size.
MATERIALS & FEEL
The High Waist Rainbow Stripe Shorts are made from nylon spandex. The fabric is 4-way stretch from 80% nylon and 20% spandex, sourced locally in Canada. The fit is tight to give you support.
SIZES
Available in sizes XS, S, M, L, and XL ONLY. This is what is left of the inventory, not to be restocked. Get yours while it lasts!
XS 22-24" waist & 33-35" hip
S 25-27" waist & 35-37" hip
M 28-30" waist & 38-40" hip
L 31-33" waist & 41-43" hip
XL 33-35" waist & 43-45" hip
FINAL SALE. NO EXCHANGE OR REFUND.
sale